Fishing Charters and Island Tours on the Cassowary Coast
Phone: 0414 869 918
The Great Barrier Reef, off the Cassowary Coast, North Queensland is internationally reknowned as one of Australia's tourism destinations. A perfect location for fishing charters with its blue pristine waters, an unrivalled variety of sea-life and numerous tropical islands to explore, it's easy to understand why people travel from all over the world to visit this beautiful place.
Our vessels, an Amara Centre Cab and the Sailfish Catamaran, can help you discover some of the many wonders of the Great Barrier Reef.
Choose your pace and your activities – fishing, snorkelling, island hopping or just plain relaxing, we guarantee that you, your family and your mates (whoever you bring along) will have a great time onboard and off-board.
Your itinerary could include: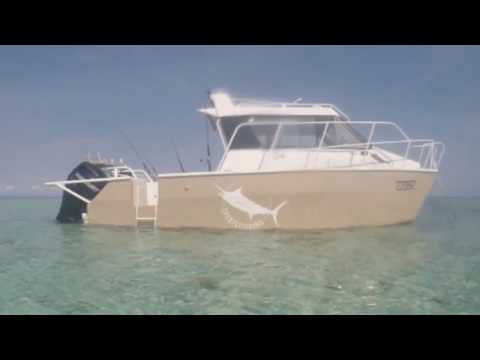 Snorkelling Reefs*
Feather Reef
Ellison Reef
Adelaide Reef
Peart Reef
Beaver Reef
Visiting Islands*
Bernard Islands
Bedarra Island
Dunk Island
Hinchinbrook Island
Orpheus Island
Camping Overnight*
Dunk Island
Stephens Island
Hinchinbrook Island
Orpheus Island
Coombe Island
Activities*
Reef Fishing Trips
Half/Full Day Charters
Game Fishing 
Boat Trips
Sharks & Sea Life
* Some reef and island visits may be dependent on length of charter and point of departure.
With twenty plus years' experience locally and offshore Fishing Cairns to Townsville.
Sponsored by Shimano we have the experience, gear and knowledge to catch you fish and keep you safe on the water.
---
Perfect for Small Group Events
Host an special event with Great Barrier Reef Fishing and Island Tours. Get together with a few of your mates, utilize one of our beautiful boats (and our highly-regarded local knowledge of the Tropical Coast) and host your own intimate, memorable cruise on pristine waters that your guests will be talking about for years to come.
---
Minimum numbers are required for our charters – Our Amara Centre Cab requires a minimum of four people or our Sailfish Catamaran requires a minimum of six people.
Don't have enough people in your group? Please get in touch and we may be able to "match" you up with other groups looking to charter our boats.